What's Cooking… in your Kitchen?
A Weekly Dinner Menu Round-Up
SO, I haven't been able to one of these menu's for a little while with the bustle of the Holidays and everything!  But, now that they are over… I'm happy to be back on schedule 🙂
Sometimes we all need a little help figuring out what to make for dinner!  What's Cooking… in your kitchen, is a Dinner Menu Round-Up that will help take the guess work out of dinner!
Monday:  This recipe looks amazing from Can't live without…
Chicken Tikka Masala
Tuesday:  If you didn't get a chance to see this delicious recipe- you gotta give it a try!
Spinach Artichoke Alfredo Chicken
Wednesday: Lil' Luna has a fun soup called Spaghetti Chili… I'm afraid I must give it a try!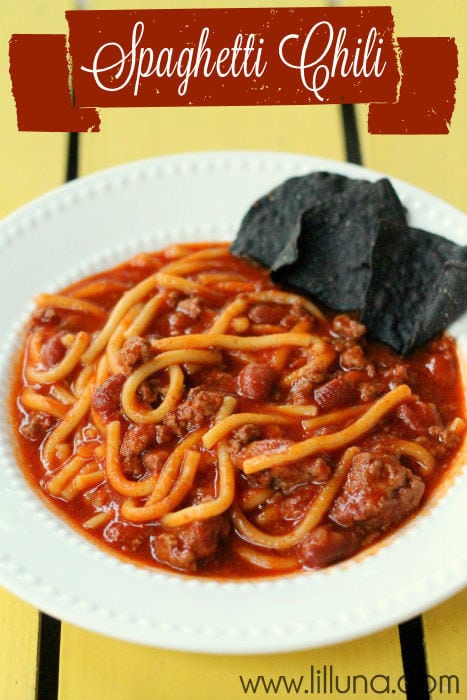 Spaghetti Chili
Thursday:  This is one my favorite 'I need dinner in 5 minutes' recipes…
Friday:  Date night/ family pizza night/ leftover night…. in other words, TAKE THE NIGHT OFF 🙂
Saturday:  Oh. my. goodness!!  Look at these delightful little sticky buns from Budget Gourmet Mom…
Pound Cake Sticky Buns
Sunday:  I love a good Crock Pot dinner on Sunday's… it just make the whole day more relaxing!  Look at this amazing soup by Your Homebased Mom!
Crock Pot Tomato Basil Soup
Dessert:  You must try this quick and decadent chocolate cake!  Words can not describe…
Ideas for What's Cooking in your Kitchen!!
If you're new to my site… let's stay connected!!  Keep in touch with me on Facebook, Twitter, or Pinterest
Happy Cooking and I hope you all have a wonderful Monday!!
Love,
Ruthie
Title:
What's Cooking in your kitchen (week21)
Mentions:
dinner ideas, dinner menu
Last Updated:
March 21, 2013