Hey What's Cooking with Ruthie Friends!
I am so excited to be here and share my opinion of wallpaper. Now, this is not your Grandma's wallpaper. I know that you are thinking of peach, southwestern borders or wall to wall forest green flowers. Maybe that's just me and my flashbacks to the house I used to babysit at when I was 12.
Good news! Wallpaper has come a long way and I am excited to show you why I have a crush on the new stuff! I really think that you are going to love it as well! See what I did with the bead board wallpaper in my
$300 kitchen makeover.
Thanks so much for having me Ruthie! I love being here and meeting your wonderful readers!
I would love for you to come over and see what spring decorating and creating that I am doing over at
Sassy Style
. If you want to keep in touch…I would love that too!
Wishing you a happy Wednesday!
Happy Creating!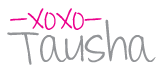 Thanks so much to Tausha for sharing her awesome kitchen make over… $300?
That is amazing! AND chatting with us about new and upcoming wallpaper… I must admit I have some nightmare wall paper stories from the early 90's 🙂
Take a look at all of Tausha's creative ideas over at Sassy Style Redesign
The number one thing you need for spring decorating
I'm super excited to see Tausha at Snap this weekend… I love her and all of awesome Redesign ideas! Make sure to jump over and visit her…
I hope your Wednesday is a super good one 🙂
xoxo~ Ruthie
Title:
Wonders of Wallpaper
Mentions:
makeover, spring decor, wall paper
Keywords:
Wonders of Wallpaper
Last Updated:
April 17, 2013