Disney's Mini Mac-and-Cheese
Our younger kids LOVE the Mac and Cheese at Disneyland SO, when I ran into this healthy Mini Mac and Cheese in the Disney Family Fun Magazine I just had to try it- our whole family totally loved it! You'll love it too 🙂
Did you know that Disney has a healthy food initiative? They do and I think it's so awesome!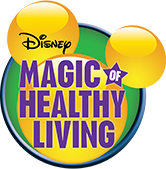 Here's a link: https://disney.go.com/magic-of-healthy-living/.

Disney has a Mickey Check program that helps you pick out healthy items on menus in the parks. It makes it easier to identify nutritious choices that address family needs. Foods featuring the Mickey Check is available in stores, online, and on vacation at various locations throughout Walt Disney World and Disneyland Resorts meet the Disney Nutrition Guidelines. Specific nutrition guideline information for all food categories is made available at www.disneymickeycheck.com or by scanning with your smart phone.
I was actually really impressed with the increased availability of healthy food choices everywhere at Disneyland! We hadn't been since 2010 and then it was especially hard to find healthy lunch items but now you find healthy fare at every restaurant! I was really impressed with the NEW Jolly Holiday Bakery they have a nice variety of healthy menu items! Here's a photo I took of the menu cuz I'm a foodie like that…
I'm telling you that Tomato Basil Soup is just to-die-for 🙂
The Bakery is themed after the Mary Poppins movie and the decor is just adorable!
Penguin stain glass windows…
A cute Mary Poppins statue in a display case…
Jolly Holiday Silhouettes…
Next time you are in Disneyland you simply must stop the Jolly Holiday Bakery and taste the new fare, it's wonderfully amazing! (the last six photo's are from this link Dining in Disneyland)
AND now back to our Disney's Mini Mac-and-Cheese recipe…
Yield: 12
Disney's Mini Mac-and-Cheese
Our younger kids LOVE the Mac and Cheese at Disneyland SO, when I ran into this healthy Mini Mac and Cheese in the Disney Family Fun Magazine I just had to try it- our whole family totally loved it!  You'll love it too.
Ingredients
1 cup whole grain elbow noodles, uncooked
1 1/2 cups shredded cheddar cheese
1/2 cup plus 2 Tbsp grated parmesan
2 eggs
3/4 cup 1% milk
1/2 cup reduced fat ricotta cheese
3 cups frozen broccoli florets, thawed and chopped
3 green onions, chopped
1/4 teaspoon nutmeg
1 tablespoon dijon mustard
1 teaspoon sea salt
1/4 teaspoon pepper
2 tablespoon butter, melted
1 cup panko bread crumbs
Instructions
Heat oven to 375 degrees and coat a standard 12 cup muffin tin with cooking spray.
Cook the macaroni according to package directions, drain, and transfer to large bowl.
Add the cheddar and 1/2 cup of the parmesan to noodles and stir until melted.
In a separate bowl, lightly beat eggs, then whisk in the milk and ricotta.
Combine egg and noodle mixtures.
Stir in broccoli, green onions, nutmeg, mustard, salt, and pepper.
Divide evenly among the muffin wells.
In a small bowl, melt butter, add panko and remaining parmesan, stir until incorporated.
Evenly divide among macaroni cups and use fingers to lightly press into each cup and pack each well.
Bake until set and lightly browned, appox 15 minutes.
Let cool 5 minutes before removing. Enjoy!
Nutrition Information:
Yield:
12
Serving Size:
1
Amount Per Serving:
Calories:

178
Total Fat:

9g
Saturated Fat:

5g
Trans Fat:

0g
Unsaturated Fat:

3g
Cholesterol:

55mg
Sodium:

444mg
Carbohydrates:

15g
Fiber:

2g
Sugar:

2g
Protein:

9g
*I adapted this recipe from Disney Family Fun Magazine
Here are few more photo's from our second day at Disneyland…
Our second day at Disneyland was slightly eventful because it started raining like cats and dogs! Luckily, we'd stopped by Target on our way over and grabbed these really awesome poncho's… they totally saved us!
We weren't hard to spot in our fancy Target Poncho's… notice the cheddar cheese color filling the back of the train- THAT would be us!
AND here again… my husband is the crazy man with the blacked out head in this Space Mountain picture:
The Holiday Decorations in Cars Land were absolutely adorable… SO cute! You totally felt like you walked right into the movie (I'll post more photo's of our day in Cars Land on Monday and a top secret Disney recipe!)
We loved the new Cars Land in California Adventures… here's a couple of pictures from the first time we rode Radiator Springs Racers:
I hope you enjoy this fabulous and healthy
Disney's Mini Mac-and-Cheese

recipe and a little look at the healthy side of Disneyland dining!

I'll be back on Tuesday with a little more Disneyland fun! But, tomorrow I'm SO excited to introduce you to one of our new monthly contributors! AND on Saturday come and share your latest and greatest at Super Saturday Show and Tell!!

Check out these other Delicious Disney recipes: Disneyland's Chocolate Caramel Pretzels, Disney's Caramel Apple Pie,

Disney's Flo's V8 Strawberry-Rhubarb Pie

Love,

Ruthie

I shared this recipe at The Shabby Creek Cottage,

Title:

Disney's Mini Mac-and-Cheese

Mentions:

Cheese, Disney, elbow noodles, healthy food initiative, Jolly Holiday Bakery, www.disneymickeycheck.com

Last Updated:

February 25, 2021